Saita Kazuki + Mugibayashi Hiroko + Mihara Soichiro
Saita Kazuki + Mugibayashi Hiroko + Mihara Soichiro moids ver.2 - acoustic emergence structure, 2009/2022
EXHIBITION [Shikemichi]
moids ver.2 - acoustic emergence structure, 2009
Venue:

Esplanade Gallery

*Only open from Nov. 11th to 13th.

Hours:

11:00-19:00
We're three geeks who like the sounds of Robert Moog, Rupert Sheldrake, and Felix Hess and met by chance in Ogaki city. Stimulated by various things over the next two years, we ran to buy parts at Ameyoko building in Osu shopping district, took the Cafe Mountain challenge, and made "awesome" electroacoustic circuits on the impulse of curiosity. Afterwards, we created the prototype installation for this exhibition and named it "moids. " Back when we visited "ISEA2002" in Nagoya looking for materials for "ARTEC", we found a photo of the three of us performing at Galleria Finarte. We're happy to be showing in Nagoya again after such a long time, here where we have such good memories. Of the three variations, it's the first time in eleven years that this work has been exhibited in Japan.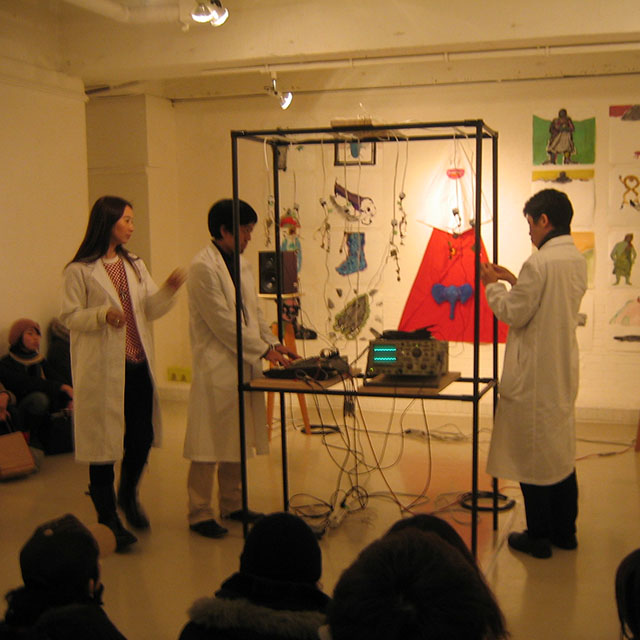 Saita Kazuki + Mugibayashi Hiroko + Mihara Soichiro
Saita Kazuki, Mugibayashi Hiroko, and Mihara Soichiro began working together in 2004. They have created three organic acoustic environments that delicately respond to the outside world utilizing decentralized sound installations and configurations of circuits using minimal sound input/output functions. They continue to present works in widely varying acoustic environments both in Japan and overseas.