ELECTRONICOS FANTASTICOS!
ELECTRONICOS FANTASTICOS! "Electromagnetical Parade in Nagoya Castle" 2022
PERFORMANCE [Nagoya Castle]
"Electromagnetical Parade in Nagoya Castle"
Date:

November 19th Sat. 18:40-20:00

*Nagoya Castle admission fees required

Venue:

Nagoya Castle Nishi-no-maru

*The venue will be changed in case of rain.

Performer:

Ei Wada (CRTelecaster)
Akira Ataka (Barcoder)
l l l三l l l三 (Telesen)
Kouki Naka (CRT-TV Drums)
Sonosuke Yamamoto (Electric Fan Harp)
Kazuma Ueda (Emergency Beller)
Shigeto Shintani (TV Kodaiko)
Yuta Hirao (Electric Fan Harp)
Takemai (TURTLE ISLAND/ALKDO) (Vocal)
+Nicos Orchest-Lab
Nagoya Omotenashi Bushotai
Cooperation: Deakin University (Australia)
Gather and get together, you delightful people, frothing over with wild fancies.
Go on and get moving, technologies fall asleep.
At dawn, guided by a faint call, wandering to discover,
All day long, gathering to create a magnetic field, and first cry rises.
Evening, electric current flows through the river of time and space,
the electromagnetical parade begins.
When the light of the CRT flickers, and invisible electromagnetic waves let loose into the sky
Ghosts summon yet other ghosts, forming a parade, marching forth through the wilderness
Go ahead, go ahead, electricity, go ahead
Where does this path lead? This path leads to the Tenjin shrine
Though we are scared, please let us through.
The moon is finally appearing, the orchestra float begins to move.
People dance to the accompaniment of everlasting electromagnetic music,
"ELECTRONICOS FANTASTICOS!"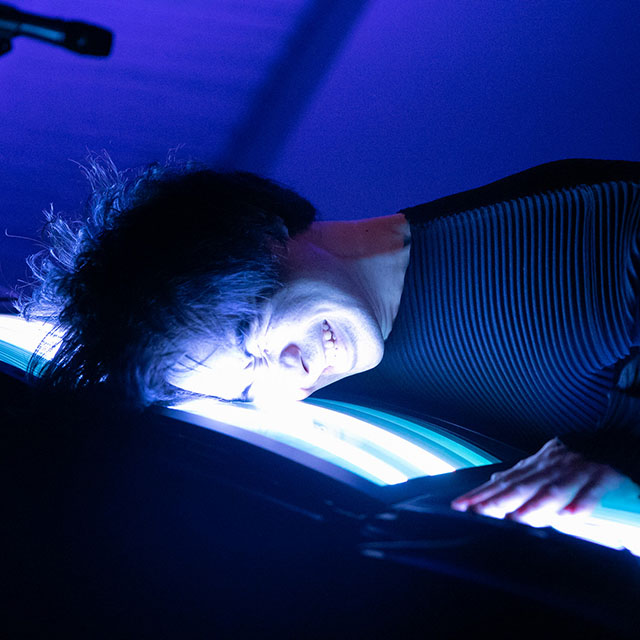 Wada Ei
Artist/Musician. As a child, he had fantasies of a music festival waiting for him; this festival was held in a place where there was a huge tower of crab legs soaring in the sky and in which was embedded a CRT-TV screen. One day, a friend told him that no such place exists on earth and so Wada decided to actually create such a place himself.
In 2009, he formed the Open Reel Ensemble, a band which uses open-reel tape recorders as musical instruments. In 2015, he started the ELECTRONICOS FANTASTICOS! projects for which he received the 68th New Face Award from Minister of Education, Culture, Sports, Science and Technology in the Art Encouragement Prizes.
ELECTRONICOS FANTASTICOS!
Begun in 2015 and led by Wada EI, this project features an orchestra of worn-out electrical appliances—commonly used machines now past their service life—that have been "reincarnated" as "electromagnetic musical instruments."
With activities currently based in Tokyo, Kyoto, Hitachi, and Nagoya, the group continues their creative activities while dreaming up fantasies such as "Native Electromagnetic Music," "Electro-Magnetic Bon-Dancing," and "Electromagnetic Parades."